On which floor do you live? How many stairs do you take in a day, week, month, or even a year?
Assuming and averaging to a number say 5, being 5th floor in an average building. which is like 80 steps, now let's assume you use it at least once a day which is like 160 steps. (Non-Covid times)
Now consider if you had to take those steps for consecutive 80 days(~nearly 3 months), you would be ok. (roughly 12500). Right?
Well because that's business as usual.
Now, what if you had to take all those in a span of 7 hours! Would you?
YOU HAVE TO when you are visiting the only living Double Decker root bridge in India and trust us, it's worth the hustle.
Before we go on, a mandatory disclaimer.
This post is not to scare any human being, no human being was harmed in the entire journey, no human had a proper meal, no human drank less than 2 litres of water, all human beings came in amazed by witnessing the sheer natural beauty.
How to travel?
By your dear feet, there is no other simple way. Many private, as well as government organizations, had suggested constructing ropeways but the locals rightly fear that it will do more harm than help as it will deteriorate the peace and serenity of the place if it's made this easy to visit the root bridges. 
One has to have a sheer freaking will to visit the living root bridges. Yes, there is more than just one bridge on the way.
When to travel?
We are going to suggest you one simple thing, visit this place on the second last day of your trip. No before no later, it is just as apt as butter is to bread. Do you want to know why? Leave a comment & we will deliver you a clear, concise, and perfect formula to prove this. 🙂
The Journey
Here the journey is not as important as the destination as Linkin park boys would say but it's an inevitable bitch, just keep a simple mantra in mind, keep stepping, keep stepping.
Start the journey as early as possible in the morning and wish for a semi-sunny day, so as there is sufficient visibility and maybe a spice of rain. Too much rain or too much sun is not going to help. For us, it was luckily a good blend, when we started it was raining a bit, and then it turned into a sunny day.
There are some basic yet essential things which one should carry on way to the root bridges. Find below for quick reference.
Things to carry
A bamboo stick(your ultimate support)
Small water bottle
Biscuits/Chip or a healthy snack to eat
Juice/Lemonade for some instant glucose rush
Raincoat(a good quality one)
A bag, of course(better if its waterproof)
Spare pair of shorts & a tee.
Sanitizer and masks(Covid protocols)
Cash to buy some of the items listed above in case you forget
A good camera/camera phone (of course you will click pictures) 
Now that you are all decked up, to start your journey to the living bridges, step ahead and march on.
On the journey towards the bridges (yes again as we said, there is more than 1) we also did not know this and were just heading towards the double-decker root bridge but almost 40% of the way down we saw this signboard.
Well, a doubt came to our mind whether to really invest our time in the single longest root bridge or head straight for the double-decker, but we all wanted a break and many travelers like us were opting to visit this bridge by paying an entry fee(INR 40 per person) which the locals use for maintenance of the bridge and surroundings.
It was a long queue when we took a slight detour to the bridge, so we had some water and juice which we were carrying. The weather was confusing, sometimes it started raining and sometimes sunny, all in all perfectly humid. And a cherry on top was that we had to wear masks as well (covid precautions)
So, after about 50 mins of queue time, we could really step on the miraculous bridge. It was just roots, mud, and an artificial stair of wood to climb up to. Only 2 people were allowed at a time and below the bridge was a running rocky river. The wait was worth it.
Exploring man-made marvels is one thing but a thing like this was really out of the world. Nature and men working together at their best. Two huge trees spreading the roots and making a path across the river.
No architect designed this bridge but mother nature.
One could climb the bridge, walk across the bridge and maybe click few pictures because it was not advisable to stay long at one place on the bridge. (There is always a risk involved, keep that in mind)
Be cautious, be alert and be attentive if some local is giving any guidance when walking on the bridge.
We took some good shots of both the bridge and requested some fellow travelers to take ours from angles we had already calculated.
Have a look above and decide, would you go this extra mile? 🙂 
Our excitement levels were doubled up now, because if we get to see such a thing in halfway journey, what would be the pleasure of seeing THE DOUBLE DECKER BRIDGE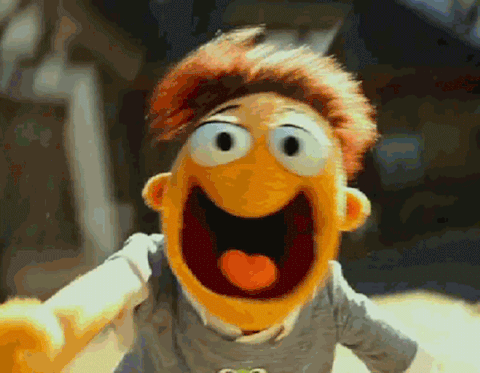 and you can see in actual below, trying to do some bhangra in excitement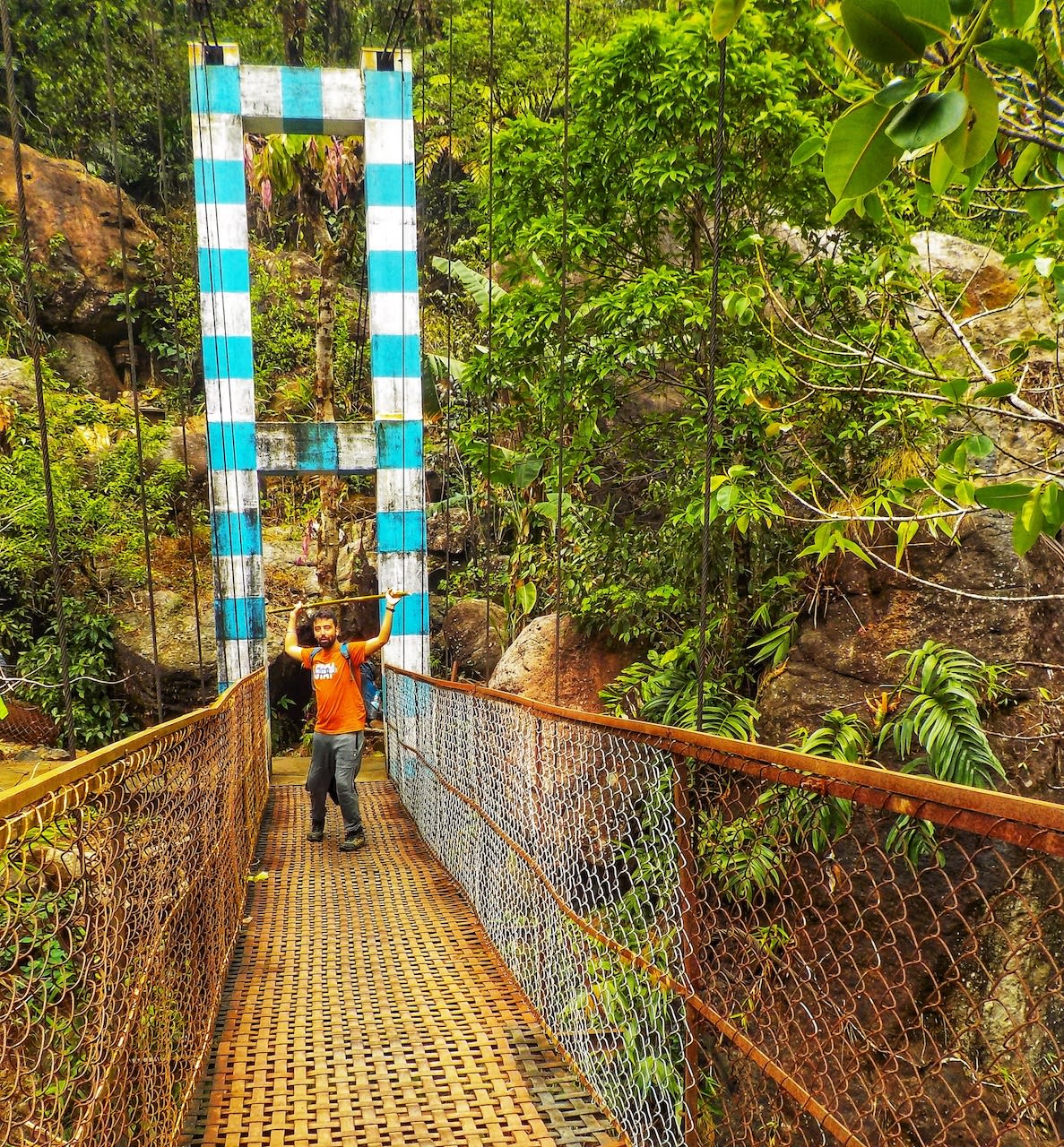 One way we were excited and on the other, we had 60% of the stairs to go which is nearly 2500 steps/stairs if not less.
Sipping water and chirping, we started our march again to our final destination.
Again as we started, the journey was enjoyable and important but as I stated above, this journey is neither important nor something you will keep cherishing for a lifetime but the juice is worth the squeeze.
Keep stepping is the mantra.
It's mostly downhill to reach the double-decker bridge, sweating and eating to keep the energy levels up, helped us cross multiple bridges, some rough terrain, and yeah a sheer freaking will.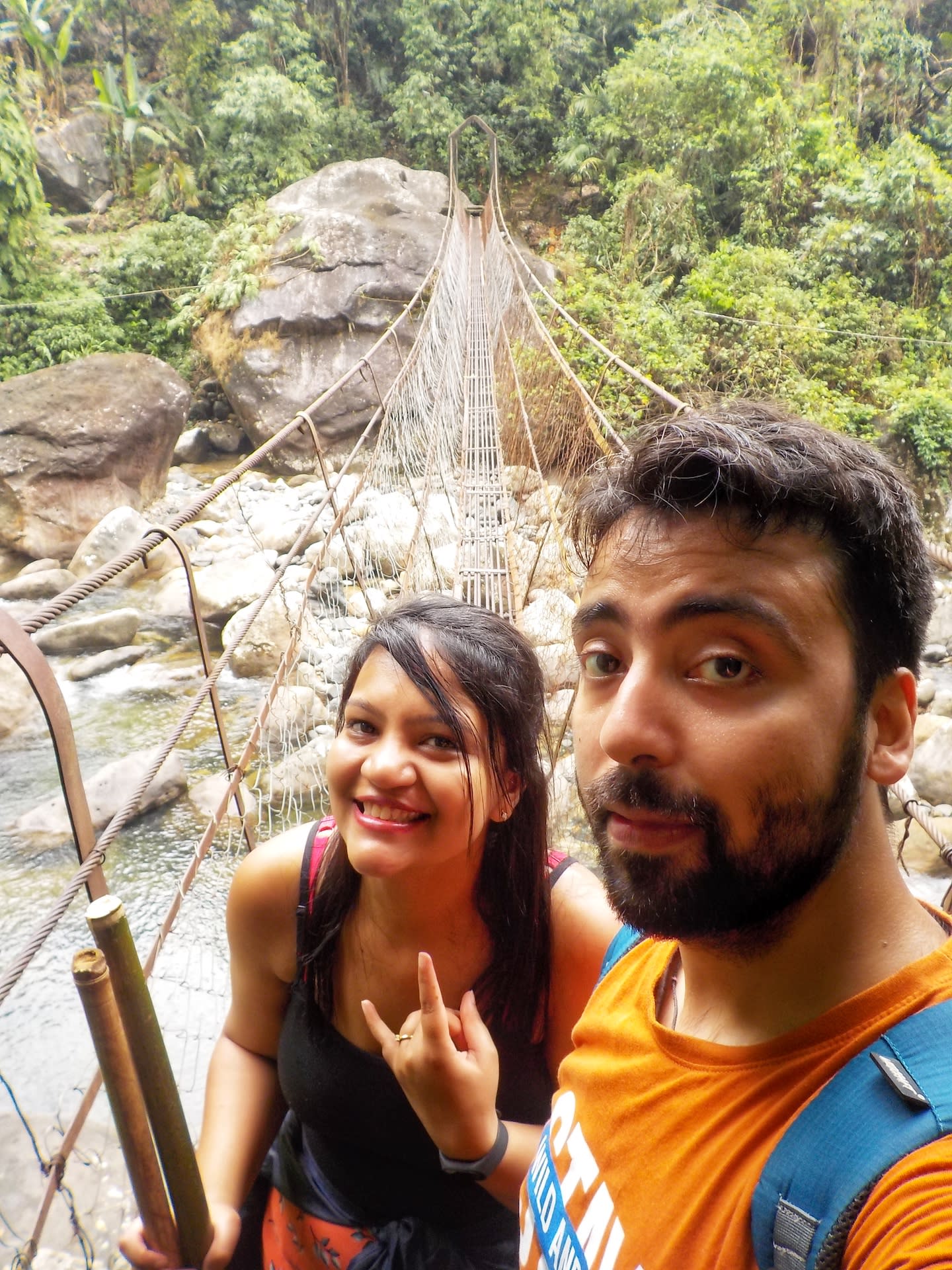 There were a decent number of tourists on the way either approaching or returning and none of them looked tired, they were totally fresh, smiling, eyes filled with enthusiasm, some of them even sipping beer…(yeah, I am kidding except there were many)
About 1500 steps later, the uphill started where one could even find homestay options as some of the tourists visit the place and then stay the night and come back.
Well, we weren't that lazy or laid back ones, our plan was to do a day trip & we did. (Whatever it takes)
Uphill wasn't that tough, as the sun was shining bright, the stairs reduced, and walking areas increased. A 1000 steps more and we could see the board, the bridge, the chanter of birds around The DD Bridge.
Now, seeing images on a google search is one thing but witnessing the miraculous yet naturally engineered beauty is another. Right in front of our eyes was that bridge standing tall, root, and handsome. Tourists clicking pictures either on the below belt or on top or on both. We did it all.
The Double Decker Bridge
Now that we were at the destination it was time to conquer it all, explore the place, visit every inch of it, crawl, walk, stay and just keep mesmerizing the beauty. I can't count how many times we crossed the bridge, sometimes together, sometimes one on each deck, waving to each other, blowing kisses and poses to get clicked.
But before all this, we had the all-time favorite snack, Maggi! And a fruit juice to replenish the lost energy while trekking to the bridge.
Maggi was very well done and served in a nice clean utensil.
Down the bridge, there was another running rocky river but it was made a bit of a tourist spot, so as the travelers can rest a bit, maybe dip their feet in cold water filled with goldfishes.
There was an entry fee back in April 2021 of about INR 50 per person, which again would be used for the whole sole maintenance of the place.'
The two decks of the bridge are separated by about 1.5 meters, making it comfortable to stand and cross. Just for the inquisitive folks, their lie rainbow falls about 3000 steps further which can be reached after crossing the double-decker bridge. Should one visit rainbow falls? Keep reading to know more.
Rainbow Falls
About 3000 steps from Double Decker Root Bridge, there exists Rainbow Falls. The way was almost uphill and we were already tired after walking for so long but Nancy was very keen on seeing these falls. It took us around 1 hour to reach Rainbow Falls, the view was as scenic as it was when we were going towards Double Decker but it was a little unmade. We were dead tired but finally reached the amazing falls. It was a treat for the sore eyes, but at the time we visited swimming was prohibited 🙁
We stayed and rested there for half an hour and then started back our journey.
Back to pavillion
Now, I am sure this is always the sad part, departing from the place you just visited. Be it a mountain, a fort, or even a hotel suite you would have booked to chill on a weekend.
Usually, we are just sleeping on our way back, or checking out pictures you would have clicked, cherishing, and then finally relaxing in a car, plane, or train.
Well, the above said & done it for a usual trip but not from a visit to The Double Decker Bridge.
First thing first, there is no time to relax.
The second thing, you need all the energy to trek UPSTREAM just about the same steps you came down. Time to pay attention to the details as mentioned above.
Third but important, you cannot take a lot of breaks to cherish the images or whatsoever. The more time & breaks you take, the more it adds to the soaring legs which you would definitely have by now.
Fourth, this is just a teaser saying, you need to earn your sleep this day. Everything has a cost.
Now, we are sounding really negative in the last four-pointers. The trek isn't that hard to crack, homo sapiens have reached beyond the stratosphere and you are getting sad just for climbing 4500 stairs. 
Let's get going.
Before you start, go through the Things to carry checklist above and the very first item in there is going to help you trek the way out.
"The Great Bamboo Stick"
Definitely, it will be your ultimate support while trekking up. This is for sure, something to LEAN ON.
It will help you shoo away any domestic pets, insects, or basically anything that comes in your will to go up. You can poke your friends around with this stick when they stop moving. I did this a lot to Nancy when she was taking more breaks than expected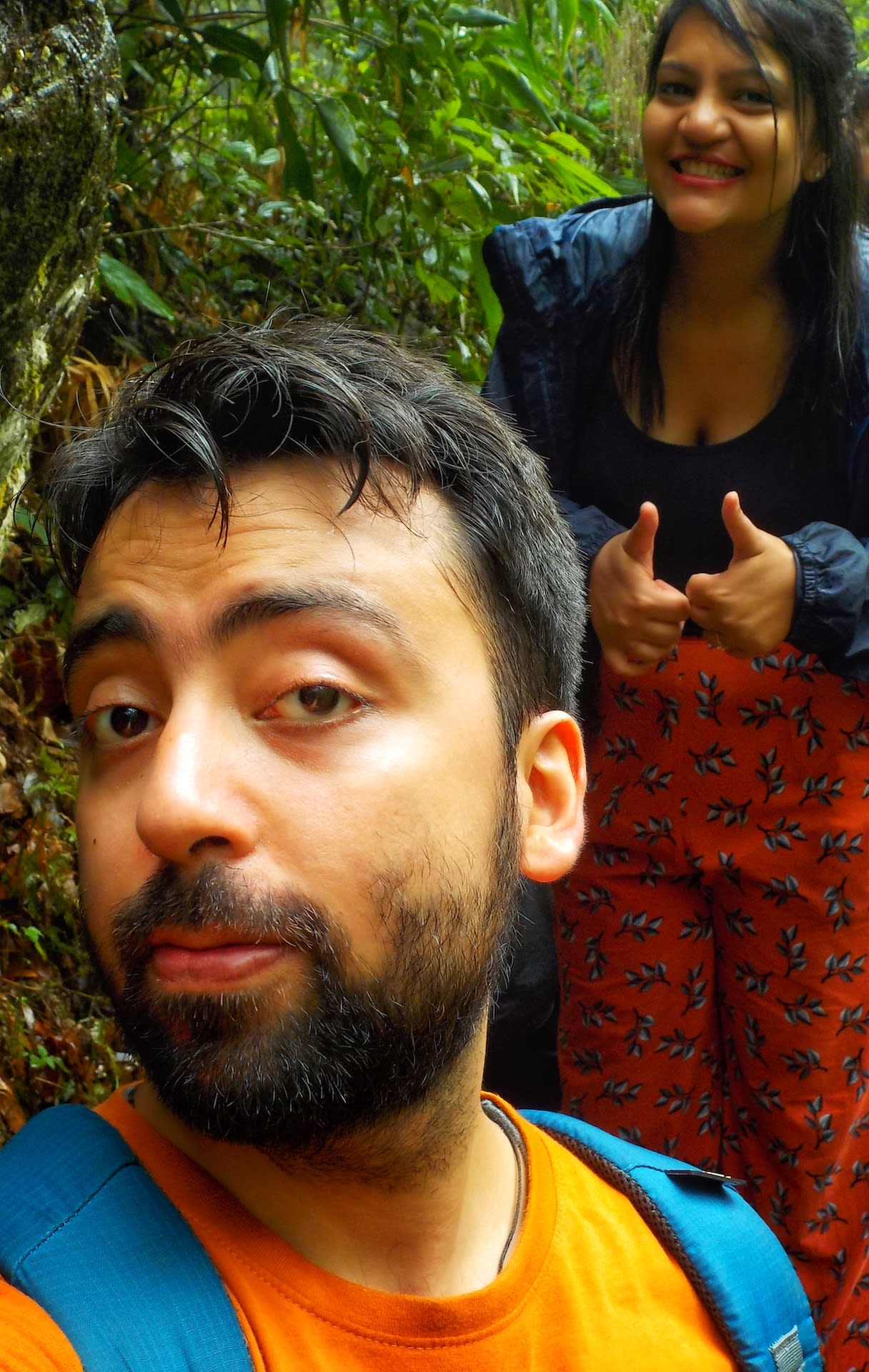 It can also be used to make a sound/stress call or show/point to a particular direction.
Amongst the other important things to carry, water is something you should not stock a lot. Of course, you need to drink and keep your head cool but the reason to not stock is, you will get plenty of shops selling the same roughly every 400 steps.
You can actually see the entire forest area when you are climbing up, not that it was not visible when you came down but at that time the intent and interest was to reach the destination. Now, the destination is indeed not important, which is basically a bus/car waiting for you to take you to your hotel or homestay as we did, the journey is.
We did our climb in roughly 2 hr and 06 mins which were to our surprise pretty good. 30 mins more in our cab, and we landed up in our homestay (Name of stay)
Our caretaker was an amazing chef, we had requested to prepare egg curry, chicken fritters, salad, and dal tadka for a wholesome meal.
Next day tips for sore legs
Well, strictly do not take any medicine that will make you fall asleep because Meghalaya is not for sleeping around. To fix your sore legs, do the following.
Rest well, take a hot shower and keep about for 6 mins soaking your legs in a hot water bucket.
Do 40 squats. Yes, this might sound crazy but if you just halt and don't move or exercise your legs much, they will hurt much more. Just keep them busy with some basic stretching or squats maybe as we said above.
If you liked the article, please like, share, and comment. Spread a word and let us know in the comments, what next to do you want us to cover.
You can follow us on Instagram and show some love.
Cheers,
Appetitravelers